Description
Get the Physical Cookbook OR a Digital Copy
Physical Cookbook:
Hardcover
Lay-flat wire-o binding
Full color printing
Digital Cookbook:
Ready to use on your favorite device
Clickable links to get you right to where you want to be in the book
New to sourdough bread baking or a pro, this book is for you!
Sourdough Made Easy is a huge resource on all things sourdough that is perfect for very new beginners and seasoned bakers alike. This book goes into depth on how to make your own starter at home as well as lots and lots of troubleshooting and Q&A's.
I spent hours a day during the height of the pandemic helping people make sourdough starters and sourdough bread for the first time. My husband teased me that I was being a sourdough therapist, because as we were working out problems within starters, we were also healing something more.
While I thought I was teaching the art of sourdough bread baking, I was really learning so much at the same time. All of that knowledge that I learned through troubleshooting with hundreds if not thousands of people has been compiled here with many, many recipes to go with it.
My sourdough approach is simple, hands off, and NOT complicated. You won't need hydration ratios, autolyzes, or complicated formulas to make amazing bread at home for your family and friends.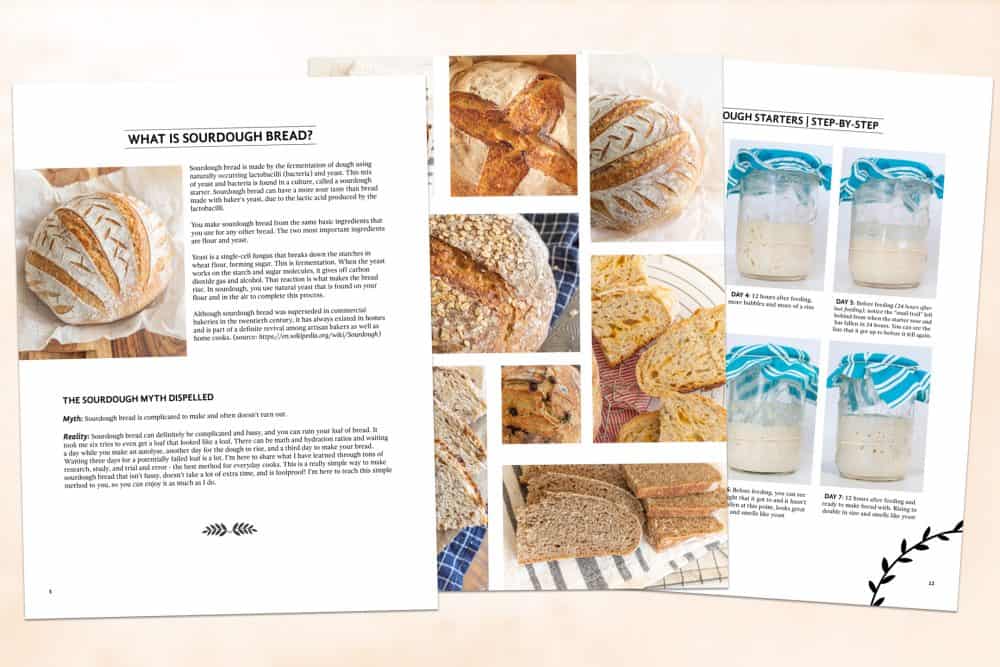 Sourdough Made Easy – Table Of Contents
Here's a full peak at what's inside so that you know what you are getting!
Introduction
What is Sourdough Bread?
The Sourdough Myth Dispelled
Sourdough Baking Tools
Sourdough Bread-Baking Ingredients
How to Make a Sourdough Starter from Scratch
Homemade Sourdough Starter FAQ and Troubleshooting
Troubleshooting Wild Yeast
Sourdough Starters | Step-by-Step
Sourdough Bread-Making FAQ and Troubleshooting
Making Your First Loaf of Sourdough Bread
Baking Sourdough Bread Using Your Intuition
How to Make Sourdough Bread | Step-by-Step
Traditional Round Loaves
Go-To Sourdough Crusty Loaf
Light Whole Wheat Loaf
Honey Oat Bread
Herb and Cheese Bread
Chocolate Chip Bread
Light Rye Loaf
Raisin Pecan Loaf
Roasted Garlic and Rosemary
Cranberry Orange Pecan Bread
Bread Pan Loaves
Simple Soft White Sandwich Loaf
Classic Soft Wheat Sandwich Bread
My Favorite Fruit and Nut Loaf
Cinnamon Swirl Bread
Honey Oat Sandwich Loaf
Everyday Extras
Pizzeria-Style Pepperoni Pizza
Simple Garlicky Pizza Sauce
Soft and Tender Dinner Rolls
Garlic Cheese Biscuits
Garlic Knots
Homemade Soft Pretzels
Long Rise Baguettes
Thick and Fluffy Focaccia
Quick and Buttery Sourdough Biscuits
Heavenly Sourdough Donuts
Light and Fluffy Cinnamon Rolls
Overnight Pecan Sticky Buns
Weekday Waffles
Fresh Blueberry Muffins
Double Chocolate Muffins
Thick and Fluffy Pancakes
Herb and Garlic Crackers
Cheesy Crackers
Applesauce Spice Cake
Double Chocolate Sourdough Brownies
Leftover Bread Creations
Sourdough French Toast
Leftover Bread Overnight Strata
Easy Tomato Bruschetta
Leftover Sourdough Croutons
Garlic Crostini
Summery Cucumber Sandwich
Sourdough Scoring
Acknowledgements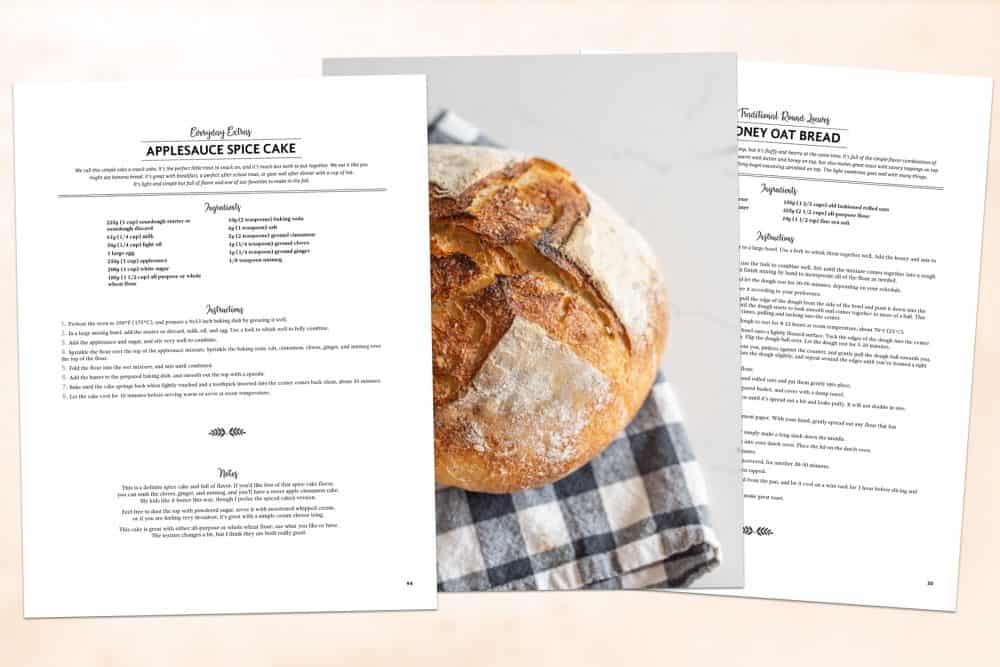 Please reach out with questions if you have any! melissa @ blessthismessplease . com
Additional information
| | |
| --- | --- |
| Product Type | Physical, Digital |